Boxer Dog Stuffed Animals
Fun Boxer dog plushed stuffed animals can be ordered online in a variety of different styles and sizes.
Melissa & Doug Boxer Large Plush Stuffed Animal
It's easy to fall in love with this huggable boxer. Dimensions (W x H x D): 31.2 x 16.5 x 8.5.
---
Aurora Miyoni Stuffed Boxer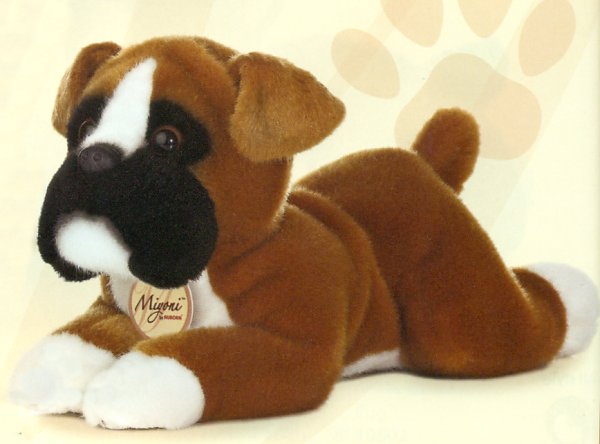 Cute stuffed animal 11 inches long.
---
Kosen Plush Boxer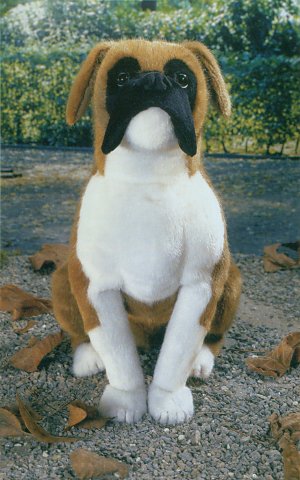 Handmade in Germany by Kosen using the finest materials. 16 Inches Long, 12 Inches Tall.
---
Boxer Webkinz Plush
Webkinz pets are lovable plush pets that each come with a unique SECRET CODE. With it, you enter Webkinz World where you care for your virtual pet, answer trivia, earn KINZCASH to customize your pets rooms, and play the best kids games on the internet.. 7.8 x 3.5 x 8 inches.
---
Melissa & Doug Princess Soft Toys Bentley Boxer
This obedient pup with its dramatic coloring and perky ears, will "sit" on your lap and "stay" in your heart. Soft, velvety fur, a shiny nose, and appropriately wrinkled, this Boxer might win "Most Adorable" in your private dog show. Product dimensions: 4.0" x 12.0" x 5.0".
---
Russ Berrie Li'l Peepers Brimble the Boxer Small Beanbag Plush
5" pellet-stuffed animal toy. Baby safe. Surface washable.
---
Nat & Jules Collection 12" Stuffed Boxer Plush
Soft squeezable. Beautiful gift.
---
Bruschi the Boxer Plush Stuffed Animal 16"
This Bruschi the Boxer Plush Stuffed Animal 16" is Stuffed with cuteness, adorableness and sweet, sweet dreams! When you receive your Boxer you will be taken aback with how wonderfully it is made (we use the finest materials) and how much it seems to beg to be held.
---
MORE Boxer and other dog breed stuffed animal styles at STUFFED ARK.
---
BOXER CHECKS | BOXER T-SHIRTS | BOXER STUFFED ANIMALS | BOXER CALENDARS
BOXER DOG CHARMS | BOXER COFFEE MUGS | BOXER MAGNETS | STICKERS
CHECKBOOK COVERS | HOME DECOR | BOXER ADDRESS LABELS | THROW BLANKETS
BOXER FIGURINES | CHRISTMAS ORNAMENTS | KEYCHAINS | CLOCKS
STATIONERY | EARRINGS | BRACELETS | WATCHES | PENS | THROW PILLOWS
GREETING CARDS | HANDBAGS/TOTES | MOUSEPADS
iPHONE COVERS | GALAXY COVERS
---
Like our new Facebook page for fun boxer stuff and product updates.