Boxer Mousepads
Boxer dog design computer mousepads in a variety of styles.
---
Cartoon Boxer (red & white) Mousepads
*Other dog colorations are available in this design; just click through and enter "cartoonize boxer mousepad" in the search box to view all options. Can also be personalized with any name or other text; makes a great gift for any boxer lover!
---
Love Is Being Owned By A Boxer mouse pad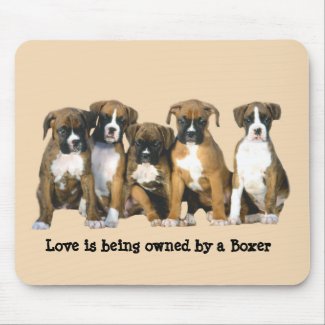 Appearing in both fawn and brindle colors. This is a great gift for you or anyone who loves Boxers.
---
Boxer MOM Mouse Pad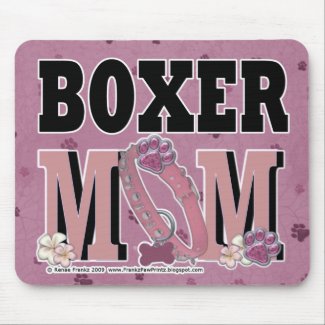 9.25" x 7.75" – Perfect for any desk or work space.
---
Boxer DIVA Mousepad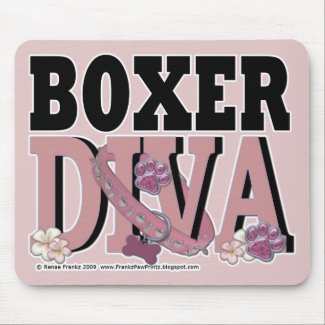 This DIVA design is embellished with a dog collar and Pink Paw Prints.
---
Boxer Mousepad
This amazing pooches profile is gorgeously imprinted on our Boxer Mousepad. When you see the Boxer Mousepad you'll want it because it captures the breed so vividly but that's not all! When you realize how well made it is - with a no-slip rubber based bottom and polyester fabric surface for durability, you will be even more pleased! These Boxer Mousepads have it all; personality and great quality. What more can you ask for in a Mouse Pad? This is the ultimate!
---
Brindle boxer puppy mousepad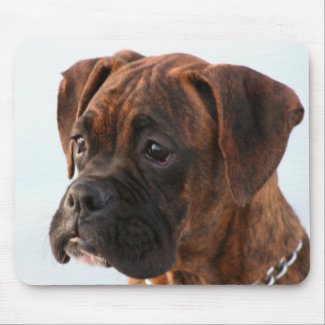 9.25" x 7.75" – Perfect for any desk or work space.
---
Vintage Boxer Trio Mouse Pad
Restored vintage black and white photo of a boxer dog trio.
---
MORE: Boxer Mouspads at Zazzle.
---
BOXER CHECKS | BOXER T-SHIRTS | BOXER STUFFED ANIMALS | BOXER CALENDARS
BOXER DOG CHARMS | BOXER COFFEE MUGS | BOXER MAGNETS | STICKERS
CHECKBOOK COVERS | HOME DECOR | BOXER ADDRESS LABELS | THROW BLANKETS
BOXER FIGURINES | CHRISTMAS ORNAMENTS | KEYCHAINS | CLOCKS
STATIONERY | EARRINGS | BRACELETS | WATCHES | PENS | THROW PILLOWS
GREETING CARDS | HANDBAGS/TOTES | MOUSEPADS
iPHONE COVERS | GALAXY COVERS
---
Like our new Facebook page for fun boxer stuff and product updates.