Boxer Gifts
Boxer dog theme gift and home decor items.
---
Boxer Wooden Decorative Dog Doorstop
Features a triangular wedge on the back that can hold a door open or just allow the pet to sit there and be the talk of the room. 18* tall.
---
Boxer Welcome Sign Brindle
While your pet may be rambunctious, the dog in the Brindle Boxer Welcome Sign is the picture of calm and control. You'll hardly be able to tell the difference between your pet and the dog depicted in this hand painted scene due to the precise detail. The solid wood construction gives the Brindle Boxer Welcome Sign a sturdy look, just like your pet. It's handcrafted in USA and has a hole for hanging, so it can start welcoming people right away. Having your pet's name painted on the 3/4" bone ads a customized touch (only $4.99). Or personalize it yourself when you receive it by ordering the blank bone. The Brindle Boxer Welcome Sign measures 13" x 10".
---
lava Boxer Cube Ottoman
Lava is a trademark of American Mills, Inc. All lava products are made in America. Add elegant style to your home decor with lava decorative cubed dog print ottomans. 17" H x 17" W x 17" D.
---
Michael Healy Boxer Dog Head Door Knocker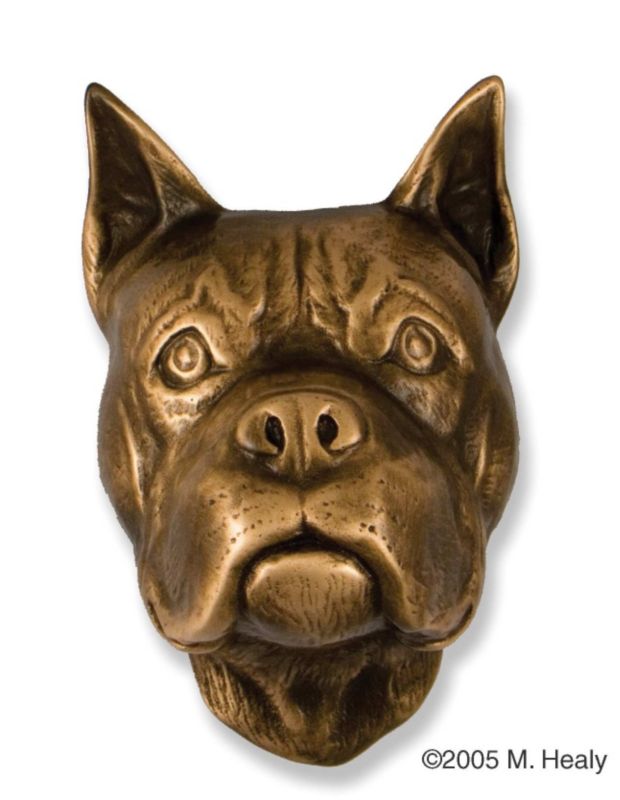 The Boxer Door Knocker is sand-cast using a time honored traditional method and is finished with a high gloss polish. It is designed by Michael Healy, an accomplished Rhode Island artisan. The design is a favorite among dog lovers and makes the perfect gift to wish someone well in their new home.
---
Custom Personalized Paw Prints Dog Food Bowl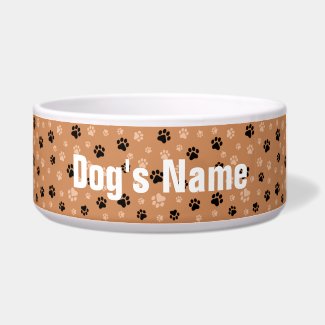 Add your dog's name to this food bowl with cute paws pattern printed all around. Great gift for any dog lover!
---
Boxer Calendar Caddy
The perfect item for displaying your Boxer Calendar year after year. This one of a kind Boxer Calendar Caddy is designed for holding the standard 12 x 24 wall calendar and is made of poly resin and hand painted.
---
Boxer Calendar Caddy and Leash Hook
Boxer Calendar Caddy and Leash Hook: A little easier to get ready for a nice walk with your pet. With their breed specific Leash Hooks that can be mounted anywhere
---
Boxer Metal Calendar Frame
This Boxer silhouette and paw print-embellished wrought iron calendar frame will complement any decor. Turn your favorite calendar into framed art! Calendar hangs from built-in hook. Fits calendars up to 14'' wide and 24'' high (when open).
---
Boxer Sculptured Portrait
It is our pleasure to provide this exclusive Boxer Sculptured Portrait presented in a lovely oval shaped frame. Measuring 9" X 11" our top quality portrait has a sturdy metal hook securely fastened into the back of the frame for dependable wall hanging. Crafted in astonishing detail, the Boxer Sculptured Portrait features a background canvas that is elegantly hand painted with textured brushstrokes in a delicate sky blue. Stunningly Projecting 1" to 2" from the base in stunning 3 D, is an intricately detailed sculpture of the Boxer that perfectly captures the happy, high spirited and playful personality unique to this energetic breed. The detailed coloring, wrinkles of skin, bright eyes and the familiar under bite are so life like that it has to be seen to be believed. Shaped completely in a durable stone resin, the deep ribbed frame is stained in rich mahogany and enhanced with an elegant inner gold-tone trim, making it an impressive addition to your family gallery. Designed by an award winning and nationally recognized artist, our unique Boxer Sculptured Portraits are signed and dated. You deserve to treat yourself or a loved one to this treasured Boxer Sculptured Portrait so that you can enjoy and enthusiastically display your attachment for the obedient Boxer.
---
Boxer Weathervane
Our impressive Boxer Weathervane rules the winds of your personal domain with spectacular style and makes an unforgettable outdoor decor statement showcasing your love for this magnificent animal.
Proudly hand crafted in the USA with with intricate detail using 14 gauge steel, our weathvane is laser cut in one piece, minimizing welding and yielding a sharp, clean look. Our special Boxer Weathervane comes with a one year warranty on the finish and a lifetime warranty on all workmanship. Your garden will bark with delight when a breeze blows through this stunning Boxer Weathervane.
---
All You Need is Boxer Box Sign
Show your love for your best friend with this decorative box sign. Primitives by Kathy's About My Dog Box Sign is made of wood and is designed to be displayed by sitting or hanging. It reads "All you need is love… and a Boxer."
---
Fiddler's Elbow Boxer / Path Doormat
Non-skid rubber backing.
---
Pets Boxer Hand Towel (Set of 6)

20" H x 20" W
---
Boxer Wind Chime
This beautifully designed wind chime featuring a ceramic
---
Boxer Windchime
The playful Boxer himself inspired our Boxer windchime. When the wind blows, several aluminum rods sound with beautiful musical tones. You'll love the tranquil, calming effect of your Boxer windchime on your household ambience. This Boxer wind chime is a fantastic gift for any Boxer lover. They'll love the twin sculpted Boxer circlets, hand polished to bring out the lines of the Boxer design. Hang it on your patio, front door stoop, or deck to make any outdoor space a little more homey. Our Boxer windchimes measure about 24 inches long.
---
EZ Vane Boxer Dog Weathervane
A perfect gift for the Boxer lover on your list.
---
BOXER CHECKS | BOXER T-SHIRTS | BOXER STUFFED ANIMALS | BOXER CALENDARS
BOXER DOG CHARMS | BOXER COFFEE MUGS | BOXER MAGNETS | STICKERS
CHECKBOOK COVERS | HOME DECOR | BOXER ADDRESS LABELS | THROW BLANKETS
BOXER FIGURINES | CHRISTMAS ORNAMENTS | KEYCHAINS | CLOCKS
STATIONERY | EARRINGS | BRACELETS | WATCHES | PENS | THROW PILLOWS
GREETING CARDS | HANDBAGS/TOTES | MOUSEPADS
iPHONE COVERS | GALAXY COVERS
---
Like our new Facebook page for fun boxer stuff and product updates.