Boxer Personal Checks
These fun Boxer dog personal bank checks can be ordered online in a wide variety of designs that really capture their captivating personality!
---
Boxer Devotion Checks
2 alternating images.
---
Boxer Snapshots Checks
4 cute photos.
---
"Faithful Friends" series Boxer Portrait Checks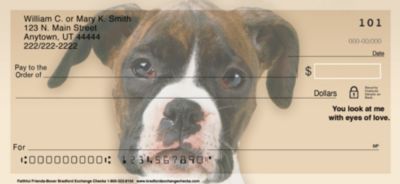 This special check design showcases a heart-melting boxer portrait, perfectly capturing the breed's famously winsome, expressive features. They're irresistibly lovable!
---
"Top Breeds" series Boxer Dogs Checks
From the dog photography collection of Faith A. Uridel.
---
Boxer Paintings Personal Checks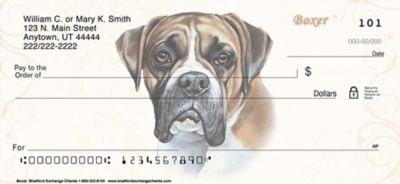 4 Boxer portraits by artist Pollyanna Pickering.
---
Cute Boxer Puppy Personal Checks
4 alternating color photos of Boxer pups striking cute poses.
---
Boxer Bathtime Personal Checks
An adorable boxer pup in a bath bucket.
---
Adorable Boxers
4 full-color photos.
---
Boxer Photos Series 2 Personal Checks
4 images.
---
Boxer Daze Checks
4 alternating color photos including 2 portraits and 2 of sleeping boxer dogs.
---
Playful Boxer Checks
4 rotating images of these dogs at rest and at play. Matching return address labels also available.
---
Boxer Pup Checks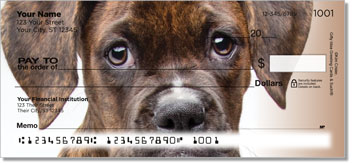 4 different poses. Matching cover and address labels also available.
---
Boxer Dogs Silhouettes Checks
4 images.
---
Teaching An Old Dog Checks
2 alternating pics of a sleeping boxer wearing reading glasses.
---
BOXER CHECKS | BOXER T-SHIRTS | BOXER STUFFED ANIMALS | BOXER CALENDARS
BOXER DOG CHARMS | BOXER COFFEE MUGS | BOXER MAGNETS | STICKERS
CHECKBOOK COVERS | HOME DECOR | BOXER ADDRESS LABELS | THROW BLANKETS
BOXER FIGURINES | CHRISTMAS ORNAMENTS | KEYCHAINS | CLOCKS
STATIONERY | EARRINGS | BRACELETS | WATCHES | PENS | THROW PILLOWS
GREETING CARDS | HANDBAGS/TOTES | MOUSEPADS
iPHONE COVERS | GALAXY COVERS
---
Like our new Facebook page for fun boxer stuff and product updates.